Connor Bedard was not expected to have a card in the 2023-24 Upper Deck Series 1 Hockey due to NHL and NHLPA rules. However, a surprise card featuring Bedard has been included in the set. This card, numbered SP-1, celebrates Bedard as the first overall draft pick. The front of the card shows Bedard in a Blackhawks jersey, holding a puck and pointing. The back of the card includes a brief biography and highlights of his achievements.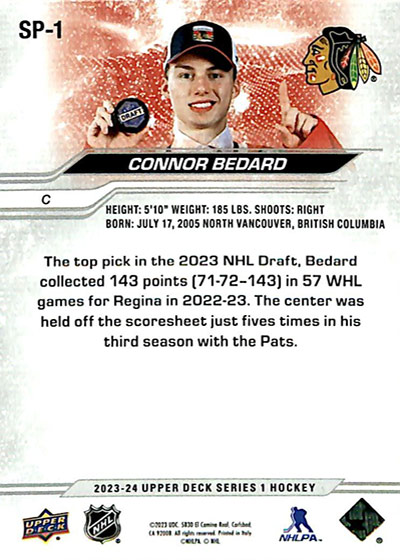 The specific odds and print run for this card, like most Upper Deck Easter Eggs, are unknown. The company typically does not release this information. To get an idea of its rarity, keeping an eye on eBay listings may be helpful.
When you click on links to various merchants on this site, such as eBay, and make a purchase, this site may earn a commission.
Olivia Wilson is a trendsetter in the world of digital culture. With an eagle eye for emerging trends and viral phenomena, she keeps readers up-to-date with the latest online sensations, memes, and pop culture trends. Olivia's passion for staying ahead of the curve is infectious.