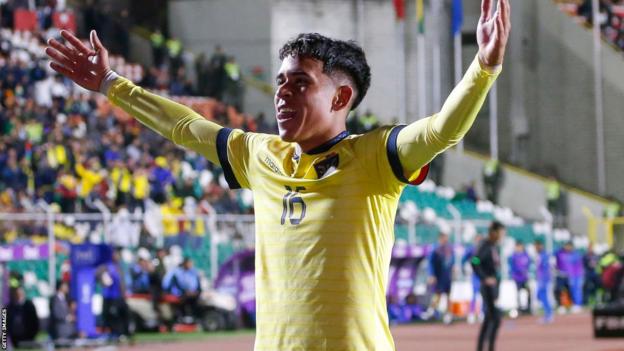 Are you familiar with the extraordinary Chelsea wonderkid, who is already shattering records even though he won't debut for the Blues for another 18 months?
Kendry Paez, at the age of 16 years and 161 days, became the youngest South American ever to score in a World Cup qualifier during Ecuador's 2-1 victory against Bolivia on Thursday.
Sent through by Chelsea midfielder Moises Caciedo, Paez skillfully drove towards the goal before curling the ball low into the far corner.
This composed finish, achieved in just his second start for his country, adds another remarkable age-related record to Paez's ever-expanding list of achievements.
Already, at such a young age, this teenager holds the titles for the youngest appearance maker and scorer in the Ecuadorian top flight, debuting and scoring his first goal at the tender age of 15.
In addition, Paez has the distinction of being the youngest scorer in the FIFA Under-20 World Cup at 16 years of age, as well as leading Ecuador to the final of the South American U17 Championship this year as their captain.
Given Paez's abundance of potential, you may be wondering why he can't make his debut for Chelsea yet?
Well, back in June, the young midfielder

Reference
Olivia Wilson is a trendsetter in the world of digital culture. With an eagle eye for emerging trends and viral phenomena, she keeps readers up-to-date with the latest online sensations, memes, and pop culture trends. Olivia's passion for staying ahead of the curve is infectious.